History
by Piret Kõima
Estonia is one of three Baltic countries, to the north and to the west lies Baltic Sea, to the east is Russia and to the south is Latvia. The population of Estonia is about 1.5 million. Our capital is Tallinn and is located on the Gulf of Finland.


Reedu (Rom x Reda), lived in 1985-1999, owners Liis & Piia Ira

Breeding, as such, of Irish Setters in Estonia dates back to 1980 when our Russian originated bitches and dogs produced their first litters. Nearly all of our dogs today have names Roi and Reedu in their pedigree.

Before 1990, during "Russian times" Irish Setters were barely known and their breeding was practically non existing. There were litters born but the goal of the breeders were not geared to improvement of the breed. There is very little information about Irish setters of the old days..
Estonian Kennel Union, the main organization of our dog owners, was re-established in 1989. The Setter Club of Estonia, which unites our Gordon, English and Irish setters owners, was founded in 1996. The Founder and current president of the club is Mr. Andres Liiv. He owns an Irish setter, and has done a wonderful job of organizing and promoting this new club for the betterment of the breeds..

There are about 14 all breed shows per year, 4 or 5 of which are International CACIB shows, plus speciality shows and speciality group shows. A lot of our dogs often participate in Latvian, Lithuanian and Finnish dog shows as trip there is not too long

Photo: Reedu (Rom x Reda), lived in 1985-1999, owners Liis & Piia Ira
Our show system is:
3 CAC's are required in order for a dog to become Estonian champion
They have to be given by 3 different judges
The last one must be received at the age of 2 years or older
If the dog placed 1st has already received 2 CAC's and is not 2 years old yet,
it can not receive the third one and the CAC goes to the 2nd best dog
CAC also goes to the 2nd best dog if the dog placed 1st is already Estonian Champion
A dog can only receive 3 CACs
Juniors can't receive CAC
In order to achieve the champion title setters must pass an obedience test or qualify in a field trial
A champion of another F.C.I. country becomes champion of Estonia by receiving one CAC here
We have Puppy, Junior, Open, Champion, Working, Veteran, Breeder and Progrency classes

First Estonian Champion among setters McMelissa (Roi x Reedu)
lived 1991-2001 owner Marika Kuusman

We also have Best of Group and Best in Show competitions where the best 4 are placed. Every spring, an International "Estonian Winner Show" takes place where BOB and BOS receive the title of "Estonian Winner". At the end of the year Top Show dogs are named (among all breeds) based on year show results according to the score system.

The Setter Club Of Estonia organizes one speciality show for all setter breeds a year and for the first time in 2000 a show for irish setters only..
The first speciality show was in 1997, but it was considered unofficial. From 1998 we have had official Speciality show for all setters every summer. Our shows have been judged by Mr Markku Santamäki from Finland, Mr Bob Heron from England, Ms. Alenka Pokorn from Slovenia, and Mr. Ronny Blomme from Belgium. Our Club show take's place in February and have been judged by well know Irish setter breeders or lovers as Ms. Camilla Östman from Sweden, Ms. Kickie Boman from Finland and Ms. Marika Laaring from Estonia.
Most of our Irish setters are from the combination of local bred bitches and dogs from outside of Estonia. We have been using lot of Finnish stock, in addition to stock from Sweden, Hungary etc. In 1995 first Irish setter Northworth Red Entrance Gate was imported from Finland and has had a very successful show career, Top dog in all breed in 1998. Now with the importation of dogs and bitches from Finland, Sweden, Hungary, Slovenia, bred to own lines, we are getting better and better every year, so it is not necessary to look always stud dogs from other countries anymore! Still we think it is very important to bring new blood into our breeding and we try to be informed what is going on in other countries.
Would like to introduce you some of our breeders:

Sign Of Constancy Emerald Isle (Erinade Extinguished x Sign Of Constancy Megan)
owner Margit Bahtin.

Kennel

Sign of Constancy

,

owner Marika Kuusman.

Brood bitch of this kennel was McMelissa (born in 1991 died in 2001), who's parents were of Russian breeding Roi and Reedu. Now Marika has two irish setter bitches - Melissas daughter SoC Megan and young bitch Field Of Dreams Apple Pie "Anni".
First litter born in this kennel in 1994, puppies father was famous Clonageera Shadow, since then every year 1-2 litters are born. Most successful dogs in this kennel are:
EST CH SoC Megan and EST CH SoC Mortimer (Clonageera Shadow x McMelissa);
EST CH SoC Claus (Onyx From Fireson's Garden x McMelissa); EST CH SoC Arizona, Alaska, Avicenna and Amaretto (Chic Choix Ashmore Reef x SoC Megan), SoC Emerald Isle
(Erinade Extinguished x SoC Megan).
Kennel

Vinca Thore

, owner Klaire Niilus.

Klaire's first Irish setter was bitch named Lusky Amy, she is born in 1993, but in the family also live's Amy's grand-daughter Soul Provider Juliette, who has been very successful show dog in 2001.

First litter in this kennel born in 1995, when Amy got puppies by Crown Point's License To Kill.

Most successful dogs in this kennel are:
EST CH Vinca Thore Aramis
(Crown Point's License To Kill x Lusky Amy) and
EST CH Vinca Thore Beverly
(Lecibsin Golden Miller x Lusky Amy).

Photo: Vinca Thore Aramis owner Dimitri Zhabasta
Kennel

Irish Melody

, owner Kaja Koger.

Brood bitch of this kennel is Madli
(Filip x McMolly).
Some years later came to family Red Tail's Quail Moor Boy from Sweden and then two bitches from Hungary - Berboss Love Melody "Lolo" and Berboss Merry Christmas.

Lolo have had two litters, but puppies from both litters are very young yet, but I am sure we will here about them!

From Madli puppies are most known
EST CH Officinale Alba Prince
(father is Northwoorth Red Entrance Gate).

Photo: Irish Melody Stella Victoria
(Frinan New York New York x Berboss Love Melody) owner Merle Luht
Kennel
Soul Provider
, owner Triin Juss.
In this kennel lives one irish setter bitch - Vinca Thore Beverly.
She has been very successful show dog and also produced two wonderful litters - first by Ember James Bond "Pasil" and second by Gin Tonic of The Hunter's Home.
Many people know that Pasil is CLAD carrier, but all his puppies with Beverly are CLAD tested and only dogs free of Clad will be used in breeding!
Beverly's first litter has been very successful at shows, best setter dog in 2001 was SP Julius and best setter bitch in 2001 was SP Juliette, they both are also Estonian champions.
Photo: Soul Provider Juliette owner Klaire Niilus.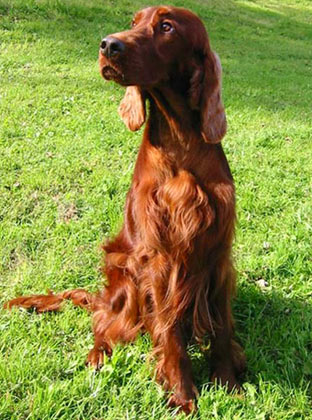 Kennel Summersweet, owner Marika Laaring.
In this family lives Sally (Lusky Alex x Bella) and her daughter
Gwendolen (by Red Tail's Quail Moor Boy) and
also irish setter imported from Finland - Lecibsin Telescope.

Here are also breeders who have had only one litter, also new breeders like I myself!
Morning Mist owner Tiina Pärtna
Dorpat's owner Urve Arukaevu
Windharmony owner Lüüli Udu
Field Of Dreams owner Piret Kõima

I hope you know now little more about Irish setters in Estonia, but if you have any questions
you are more than welcome to ask!


see also:
Estonian Champions
Imported dogs
Show results
Top show setters in 2001
Puppies

History | My dogs | Puppies | Irish setters in Estonia | Guestbook | Links
E-mail me at: piret.koima@mail.ee

Designed by Dioskury
All rights reserved